We Sea of Ink. situated at Hauz Khas Village-Hauz Khas. Delhi, are a break away from your typical tattoo parlour. we offer export experience and quality service to our customers. We provide positive setting to those who want custom tattoo artwork and body piercing in a bright, clean, comfortable, artistic and friendly environment. It is always our endeavor to cater our customer's creative and artistic neets with quality and style beyond expectations.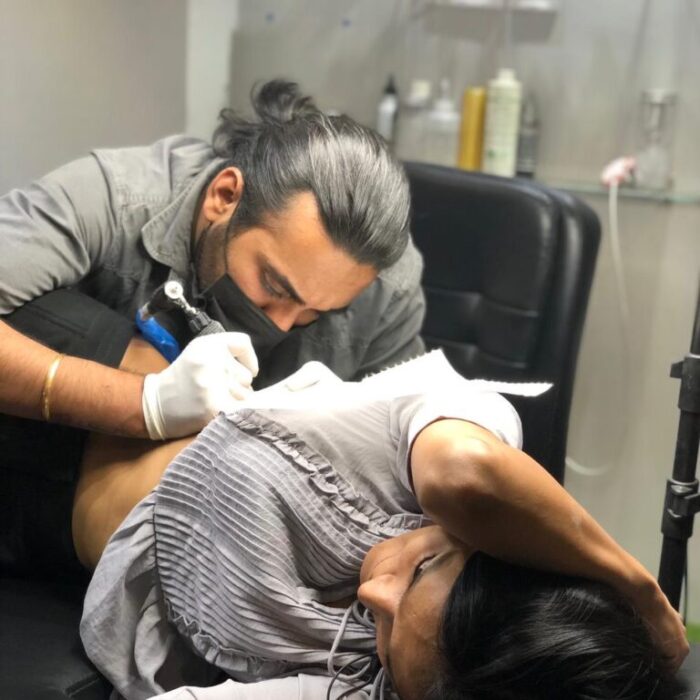 Akshat Shrivastava
2022-08-22
Got my first tattoo done from here and i am more than satisfied by it. It was a great experience and special kudos to the hygeine and care with which the tattoo was done. Daman, the tattoo artist, took time to help select and design the tattoo with patience. Highly recommended for all your tattoo stops
The experience was awesome .... I was spectical about it as it was my first tattoo but i almost felt no pain during the process ....the tattoo designerDaman was awesome and I liked the design very much. Best tattoo studio in Delhi
The best tattoo studio where you can legit see the artist working with all dedication and very much professional in their work. Their service, tattoo designing and customisation as per your need. My experience with Sea of Ink was super amazing. Best Tattoo shop in delhi
Hi Sea Of ink I can not tell how much I'm loving my tattoo. 🕸️ Damanpreet😎 I can not thank you enough for the job you have done. The tattoo is just amazing😍 You are really a great artist, long way to go buddy. Thank you so much. Thank you Sea of ink I'm very happy with the service I received from your guys. Looking forward for more. Kudos🥳🥳
I got my ear lobes pierced. Process didn't hurt.
I can say I had one of the best experiences while getting inked. Just trust his creativity and he will deliver the best designs.. Highly recommended of you are looking for custom designed tattoos.
Mohammed Shakil
2022-08-21
I had an amazing experience at Sea of ink tattoo studio. It was my first tattoo that I got inked. I was quite nervous and excited at the same time. They and gave me a better insight of what I can get inked and he did his job so perfectly. The studio is well managed. It's my first experience and I am happy with the quality of work being done.
Ridhima Kushal
2022-08-21
Perfect place to get your tattoo! My tattoo came out very neat and just like I imagined 🙂 They also take good care of hygiene!